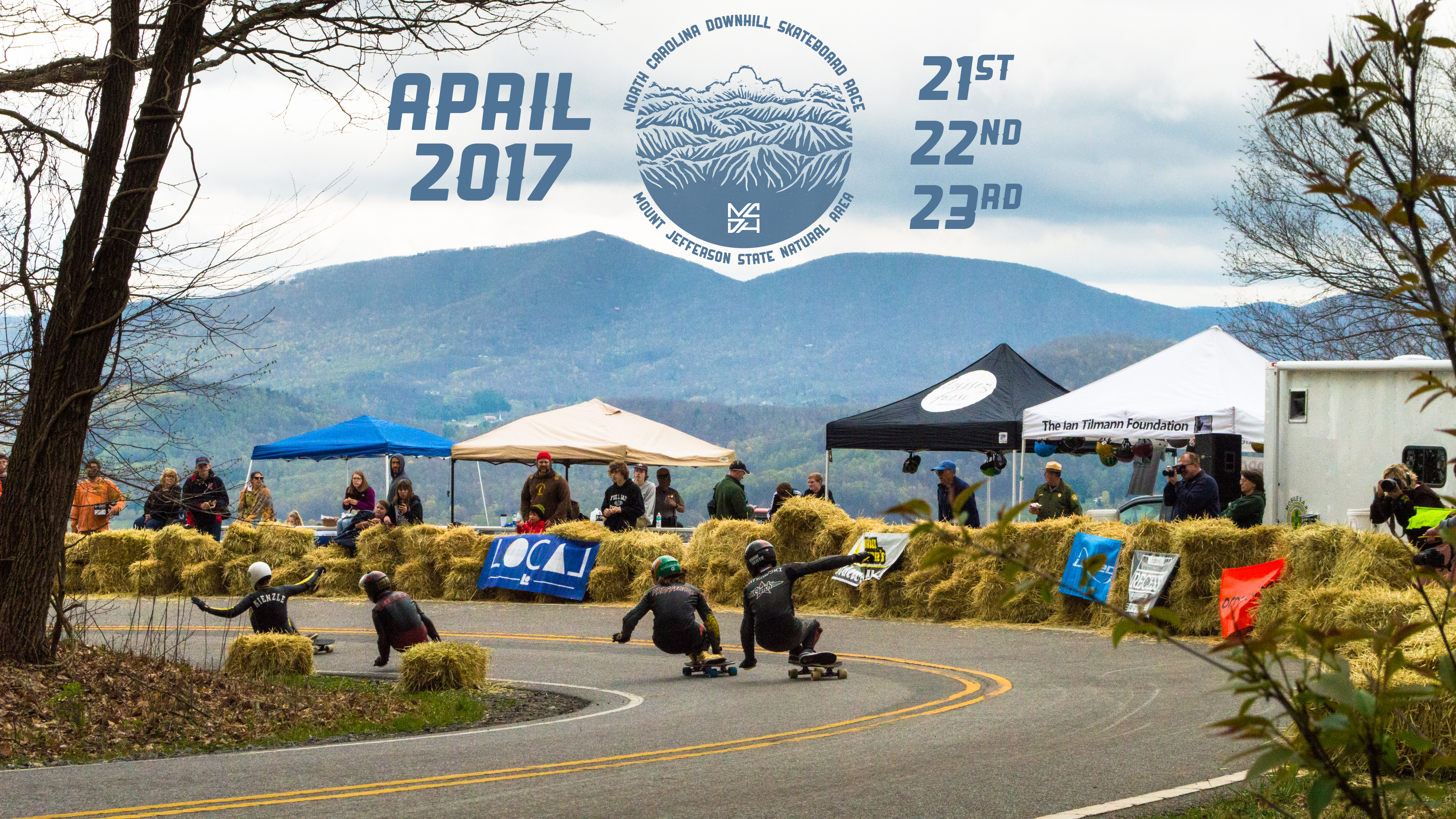 Rider information packet:  Click Here
Event Waiver: Click Here
On April 21st, 22nd and 23rd, 2017 skateboarders from across the country will gather in Jefferson, North Carolina to compete in the state's third annual sanctioned downhill skateboard race. The event will be held at the picturesque location of Mt. Jefferson State Natural Area in Jefferson, NC. The course features two miles of pristine NC pavement with three hairpins connected by blazing fast sweepers, smooth asphalt, and plenty of passing and drafting opportunities at speeds over 50 mph. The event is organized and presented by North Carolina Downhill (NCDH), in collaboration with Appalachian State University's Human Powered Transportation Club (HPT) and the Ian Tilmann Foundation.
The first race brought 66 registered riders from around the world, including the event winner and three time world champion Kevin Reimer, as well as over 400 spectators (despite having 5in of rain on race day).  The second year of the event brought 89 riders from across the world as far as China, Canada, Australia, and California.
Straw bales will be carefully placed along the length of the two mile race course to serve as protective barriers, and all necessary steps have been taken to close the road and ensure rider/spectator safety. Spectator shuttles will be running continuously throughout the event, as well as food and product vendors at the two scenic overlooks. Last year, spectators totaled well over 1000 over a two day period, the most ever in the park's 50 year history.
For the 2017 event, we are expanding with a freeride day and a luge category.
96 registration spots will be available in open downhill skateboard and women's downhill skateboard.
12 registration spots will be available in luge.
Freeride registration will include an additional 54 available spots, capping freeride day at 150 riders.
Additionally, freeride day will focus primarily on the riders with minimal spectator movement to maximize the number of runs. We will be running a luge race this year. A butt board race will be contingent upon scheduling and will be announced closer to time. 
Riders will have a variety of meal options available which will be accessible at their leisure. Camping is included for registered riders Friday and Saturday night.
162 registration slots available. 96 for practice and race day, 50 for the freeride, 12 reserved for luge. 
Freeride – $75 (Friday only)
Race – $145 (Saturday – practice day / Sunday – race)
Race & Freeride – $175  
(Prices do not include tax and fees)
Please email ncdownhill@gmail.com for race registration availability.
Note: Registration is first come, first serve. Refunds may be given at the discretion of the organizers. Rider email will be used as a primary means of contact for rider information. Please use an active email account.